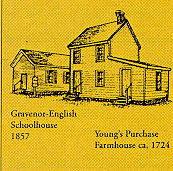 The Adkins Historical and Museum Complex, Inc. was created and develop over a period of fifteen years, by J. Howard and Louise Adkins. The complex consist of eight historic buildings and the gravestones of a Revolutionary War Patriot and his wife.
The Brattan-Taylor village store, originally 16 ft. x 22 ft. with a cellar, was build by Joseph Brattan and operated until 1966. Store ledgers and day books (complete from 1848 thru 1877) give a glimpse of life during this period. The Seven Ladies Day books show what the ladies bought during this period. Over 800 store artifacts are on display.
The Odd Fellows Lodge Hall was originally the carpenter shop of Thomas J. Windsor, builder of many of the Victorian homes on Main St. After his death in 1901 the building was moved to its present location and used as a voting house until after WWII. Goodwill Lodge #112 I.O.O.F., bought it at auction and used it as a meeting room until 1983.
The livery stable, built ca. 1905 is developed as a farm museum.
The Gravenor-English one room schoolhouse, built and deeded to Somerset County by Thomas Gravenor in 1857, was used until the early 1920's. Moved to its present location in 1983, it has the original blackboards, coat hooks and bookshelf, a 1906 photo, a 1910 world globe, period school desks, benches and over 200 old school books on display.
The Youngs Purchase Farmhouse was built by William Young, ca. 1724 and continuously occupied until the mid 1960's. It was moved to its present location in 1983 and is furnished with nineteenth and early twentieth century pieces. In 1991 this farmhouse and the schoolhouse were recognized by the National Society of the Colonial Dames of the XVII Century as being historically significant. In the rear of the farmhouse are the gravestones of a Revoluntionary War Patriot and his wife who were the ancestors of Orville and Wilbur Wright.
A small Contractors shed of the early 1950's has been replicated to resemble the office of Dr. Lemuel R. Brattan, an area native, whose ledger and daybook give an interesting account of his ministering to the sick from 1854 thru 1857.
Another contractors shed was converted into a memorial building to honor those who served to secure and preserve our liberty. A Civil War soldiers discharge certificate and WWI and WWII military items are on exhibit.
The largest building served as a warehouse for a local cannery from 1903 to 1936. After restoration in 1991 the upstairs is now used as a repository for antique furniture and a collection of rare books. Barren Creek Clocks, maker of wooden geared clocks, uses the first floor as a manufacturing, repair, and sales room.
Tours by appointment.
The Mardela Spring House, located on Main St., is another site to visit. Water from the old spring was once bottled and sold as an healing tonic.
The Presbyterian Church is located next to the Spring house. The church was built in 1842. It is now being renovated with hope to be done by this fall.
There is a Mason Dixon marker approxiately 2.5 miles east of Mardela Springs, MD.
---
HomePage
Copyright © 1997 "David Insley" All Rights Reserved
Updated 5/3/97